Pigfaced
The humble beach strewn pigface is a surprising plant. As a ground cover it takes off wherever I embed any hacked off cutting.It then grows and grows and GROWS....!
A carpet of succulent greenery with flowers on offer. It's a torturous jungle with stems overreaching each other to go places. The irony is that in its reach out activities, it seldom drops roots and even these are shallow and loosely anchored. Invasive you could not call it.
It's a benign occupation.
Carpobrotus glaucescens (Eastern Pigface)
I was watching my pigface ramble all about as I played God and snipped bits off to transplant when it struck me that pigface was sure to be my best of all possible living mulches. It is so easy to contain and control it. Just break off bits here and there between your fingers.
So in the garden beds this is the plan: wall to wall pigface. And get this:
Pigface can be chopped up with a spade and dug into the ground. This works sort of like water storage crystals and reduces hydrophobia (water repellency) in sandy soils....like the stuff under our feet here in Beachmere. So if you want your sand to hold its water, grow the local species of pigface and dig it in.
Talk about all my Christmases coming at once! What a great mulching option!
The Pigface Invader
Since I have developed an interest in pigfaces I was disheartened to discover that the pigface planted along the Kunde Ave outlet drain for Lake Beachmere by Moreton Bay Council seems to be the
seriously invasive South African species,
Carpobrotus edulis -
- Hottentot Fig . It certainly isn't the local native species --
C. glaucescens.
My guess is also that on the other bank contractors have planted the southern species,
Carpobrotus rossii
.
A strange choice I think.
Carpobrotus edulis should be removed immediately as it can infect the ecosystem at the mouth of the Caboolture River. Councils native plant management protocols may leave a lot to be desired but such a planting -- if true -- is downright criminal.
Pigface

(

Carpobrotus): Carpobrotus glaucescens

-- Angular Pigface is the Queensland local -- and the marketed variety, sold for it fruits and leaves, is

Carpobrotus rossii

-- native to WA and southern Australia. [Pictured left].
I'm trying to get a 'feel' the succulent leaves of
Carpobrotus rossii
--as I do grow it as well.It isn't as active as the local species but it does well nonetheless in sandy soils. There are recipes.
The associated plus is that the fruits are very tasty like slightly salty Kiwi fruit.I really like them...but the leaves on Pigfaces are variously astringent. You'd spit
Carpobrotus glaucescens
out.(I do). The leaves of
Carpobrotus rossii
are tolerable raw...so I need to explore more how they cook up.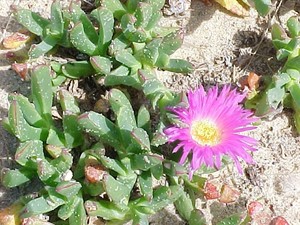 Rossi (native)
Glaucescen (native)
Edulis (exotic invader)